Around the world in 60 days
Mal and Tracy's adventures
Australia; Victoria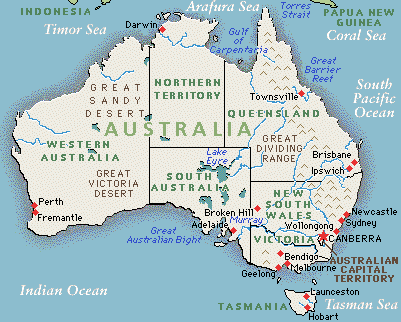 <<New Zealand<< | Index | >>Australian East coast>>
Click on an image to magnify it (JavaScript is required).
When we arrive in Melbourne our good friend Chris picks us up from the airport and after a scenic evening drive on the motorway we find ourselves in Chris' 18th floor apartment overlooking the business district of Melbourne and feasting on orderves.
Friday 17th September 2004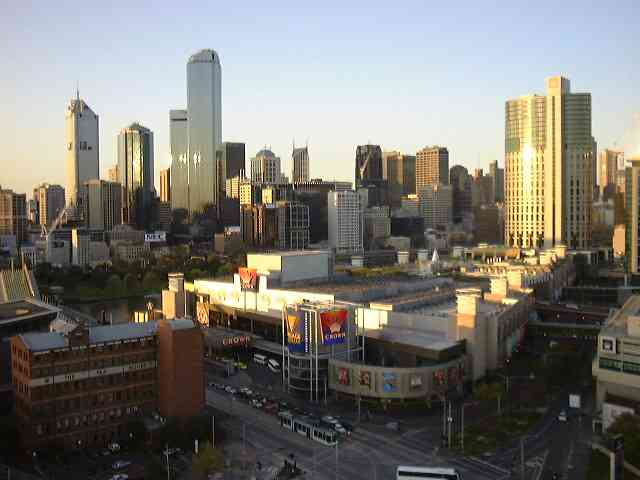 We take this opportunity to relax a little, attend to our email, meet Chris, Darren and Bulent for a lunch of Yum Cha (like Dim Sum) at the Holiday Inn by the Yarra river.
Chris had arranged for us to stay the weekend at his parents holiday retreat in Mulwala, Yarrawonga with himself and Heidi so in the evening he drove us all for 3 hours to traverse the 300 km to get there.
Saturday 18th September 2004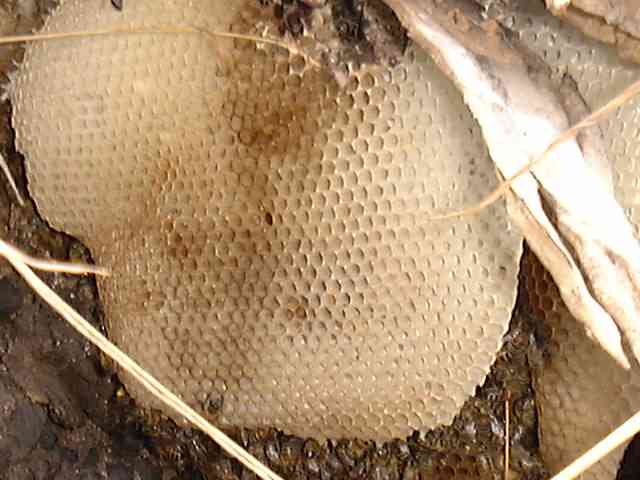 After a long lazy, social breakfast we all head out to see some of the area. First stop is Lake Mulwala just down the road. This is an artificial lake with a forest of spooky looking dead trees in the middle. In the summer the lake may be alive with activity but at this turning point from winter to spring, there is no activity at all. The scenery is good so we stop a few times for Heidi the photographer to take some snaps. On one of these stops I found an open bees nest which is a first for me. I refrained from collecting any honey though.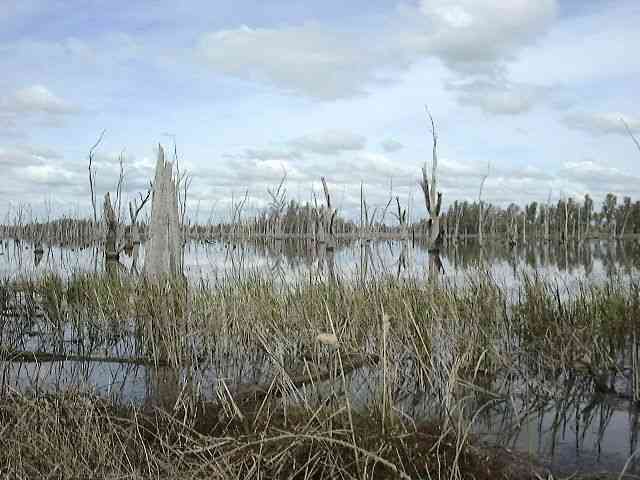 After a long drive punctuated by a walk in Chiltern Mt. Pilot National park, we arrive in Yackandandah. This place was first settled in 1837 and grew wealthy on a gold strike in 1852. Since then it has retained its Victorian architecture and hence looks so much nicer than the modern towns.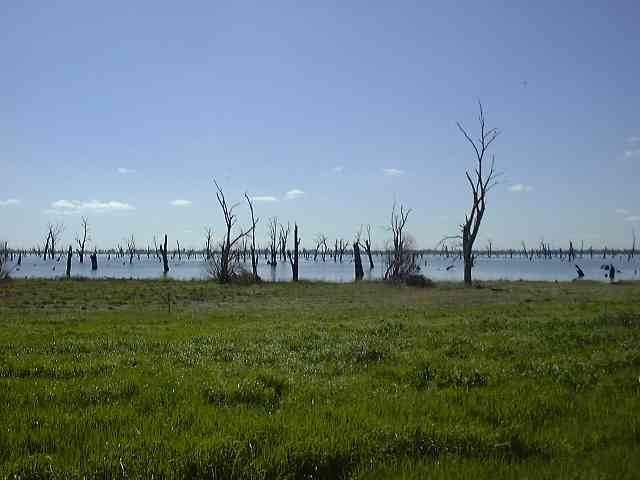 The tourist attractions include a gorge chiseled out of the rock by hand to divert the Yackandandah creek to the gold prospectors pans. The site where gold was first discovered is now a caravan park where the residents seem to have given up the race for gold. We did not do any prospecting ourselves but the walk through the sleepy town was nice and we finished up in the local with a glass of Amber Ale. You will soon be able to see this town for yourself as it will be featured in 'Strange Bedfellows' (The Movie).
The drive back to Yarrawonga seemed to take for ever even though it was only a few towns away. The night life consisted a roast dinner at the golf club and a brief visit to the disco at the RSL (Returned Services League).
Sunday 19th September 2004
We set out to visit a few vineyards today but only managed two. This had something to do with a late start, extensive sampling, lunch and chit chat. Still, the wines were good, the scenery extensive and the company excellent.
Monday 20th September 2004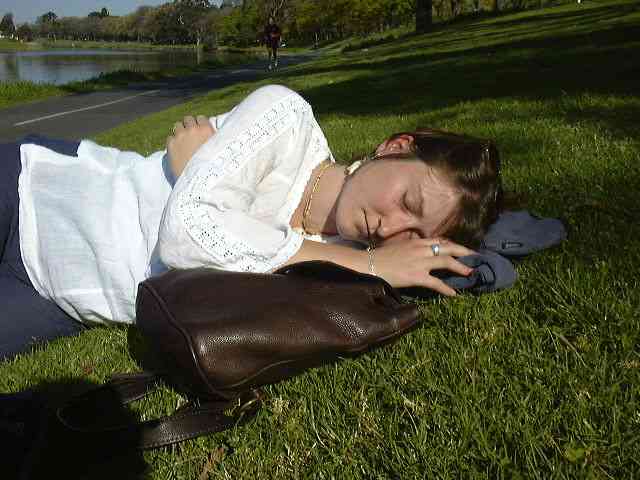 A gentle day today with only a walk along the bank of the Yarra from Chris's apartments at South Bank north past the eastern edge of the city. There are quite a few rowing boat club houses here just like there are by the Thames (in London).
In the evening I went for a few games of badminton with Chris and Darren. We ended the evening with a meal of noodles from the takeaway.
Tuesday 21st September 2004
I had been looking forward to this day with a mixture of excitement and apprehension for we were going to meet a very distant cousin. The last common ancestor between me and Rochelle Haines née Weller was born 243 years ago so although there is a family link between us it is very tenuous. We had met by way of the Internet and the family tree, compiled by my aunt and a distant cousin, that I had published on a web site some while ago. Rochie had found the connection between her tree and ours and we had both gained extended families. Up until 11.10 am this day we had never met or even talked over the phone so it was with great delight that we discovered her and her family to be so friendly and welcoming. They had prepared a barbeque for us and we sat in the garden all afternoon talking and catching up like close family.
Wednesday 22nd September 2004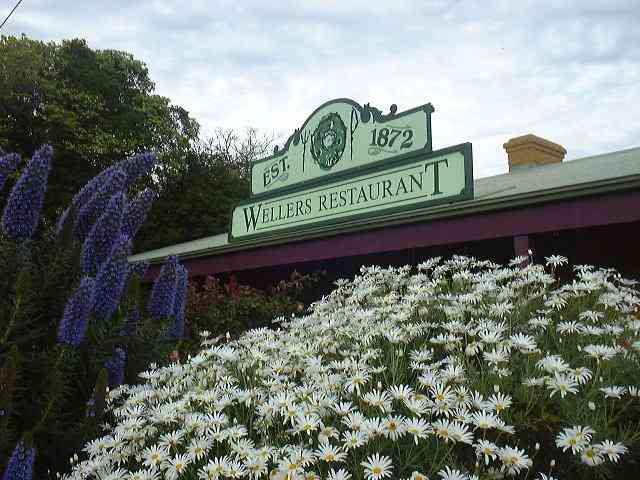 This was going to be a bigger day than yesterday for Rochelle had organised a lunch at 'Wellers Restaurant' in Kangaroo Ground, just north-north east of Melbourne.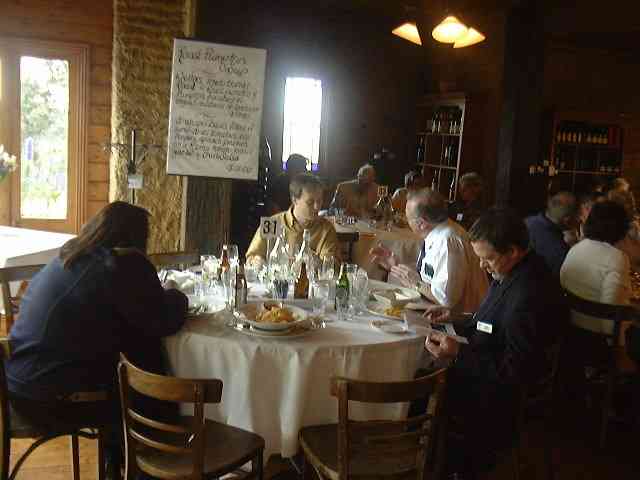 It had started with a table for 4 with an open invitation to Rochelles close family but when it was published in the Kangaroo Ground historical society newsletter, the party quickly grew to about 35 and on the day about 50 people turned up. Rochelle's uncle, Gordon had a display of old family photographs and even presented us with a memento of a 1963 silver Florin showing the Australian coat of arms, embedded in a carved piece of Bulloak which he made himself. The whole day was becoming quite overwhelming as most everyone wanted to meet us and find out how we were related, where we were from, what we were doing and then take photographs of us.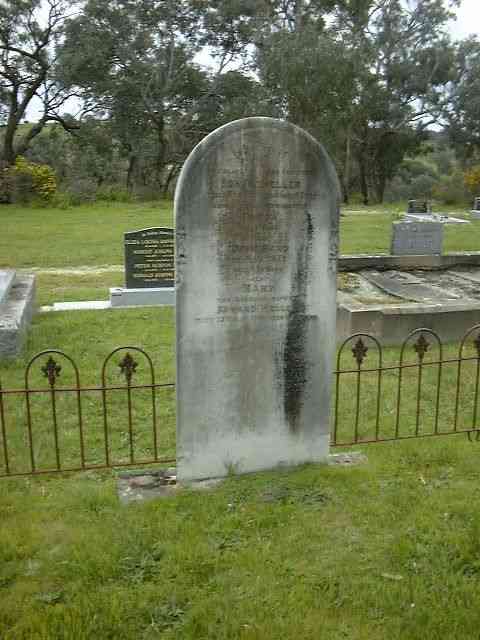 It felt like being famous for a whole lunchtime. Everyone was so friendly and welcoming and made us feel like real family. Even Sean Wolfe, the owner of the restaurant welcomed us and took us on a tour, showing us the original building from 1872, the additions since and the gardens.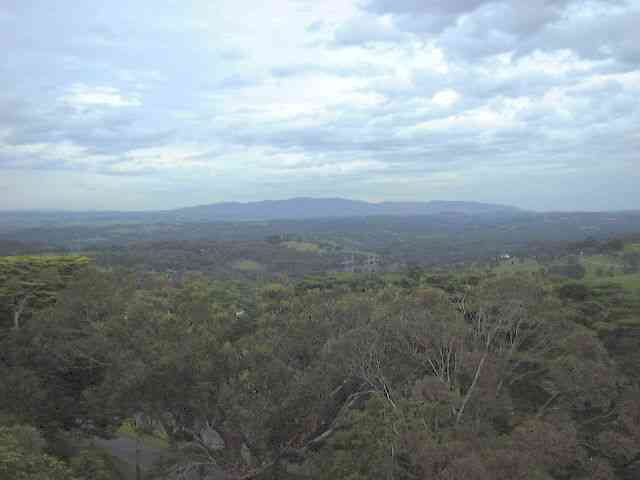 Lunch continued on until about 4 p.m. when those that had travelled 100's of kilometers felt it was time to head back.
Rochelle, her husband Geoff, their son Caleb and her mother, Judy and friend Christine, took us to the Kangaroo Ground cemetery to see the gravestones of the family members who had settled and lived there.
Back in Melbourne, Chris had cooked us a lovely meal which was most welcome as I had not quite found time to finish my lunch.
Thursday 23rd September 2004
We took the 9.10 am train from Spencer Street station to Shepparton hoping to arrive at 12.15 but after a few stops in the suburbs the diesel locomotive broke down. After about 30 minutes we were expecting to be taken on by coach when the engine suddenly started and the train sped out of the station. This might have come as a surprise to any passengers who had stepped onto the platform for a smoke as there was no warning. This combined with the worrying observation that the train was merrily speeding along with some of the doors wide open may explain why train travel here is unpopular.
Talha, Nasreen and Zahra met us at the train station and whisked us of for lunch at an Albanian cafe but when Talha had to go back to work the rest of us went for coffee by a lake nearby.
Talha's plans to take us kayaking on the river that evening fell through but we had a good Thai meal and social chatter in the evening.
Friday 24th September 2004
Talha dragged me out fishing at 7 am down on a bend of the Goulburn Valley River where he fishes whenever he has a spare moment or two, which seems to be often. By the time we return the girls are getting up so we jump in the car and drive to Bendigo. They say it is just down the road but we drive for miles and miles over flat, flat land punctuated by the occasional clump or line of trees. After an hour or so we roll into Bendigo and grind to a halt at the Golden Dragon Museum which houses the longest and the oldest Chinese Imperial Dragons. The museum kept us amused until lunch time and afterwards we checked out the Chinese gardens.
Our last stop for the day was to climb the lookout tower and survey the town laid out on the flat plain.
Saturday 25th September 2004
I was up early again so that Talha could take me out fishing, again. I am sure it was too early in the morning though because the fish were not jumping, again.

After breakfast we hopped in the car for a short hour and a half trip to Kyabram Fauna park which was packed full of indigenous fauna such as Kangaroos, Koalas, Emus, Parrots, Flying Foxes, Echidnas etc.. etc. After a happy couple of hours we trekked into Echuca for lunch at a rather nifty bakers and then on to the Murray river.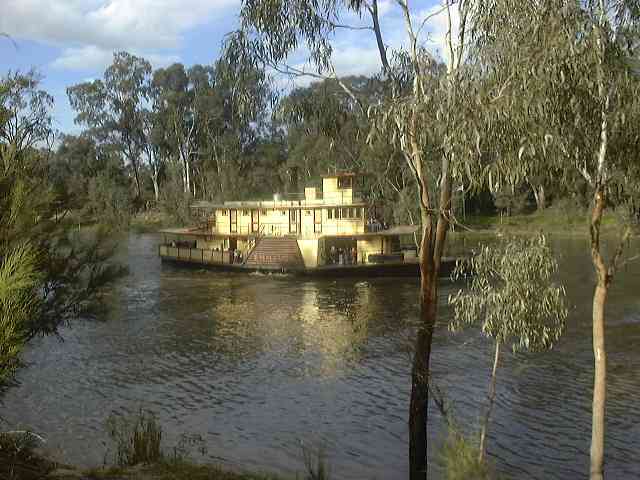 The river sported a number of paddle steamers that were really driven by paddles if not by steam. We decided that a stroll down the river would be preferable to a cruise. So we strolled. And then we strolled down the tourist street made to look like a street from a bygone era.
Sunday 26th September 2004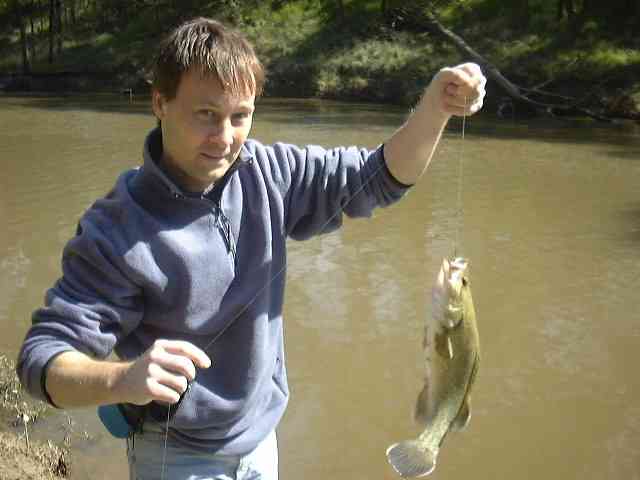 A third early rise to go fishing resulted in the successful landing of a 30 cm Murray Cod. Fortunately, tiddlers like that have to be thrown back to grow bigger so it was not destined for the frying pan.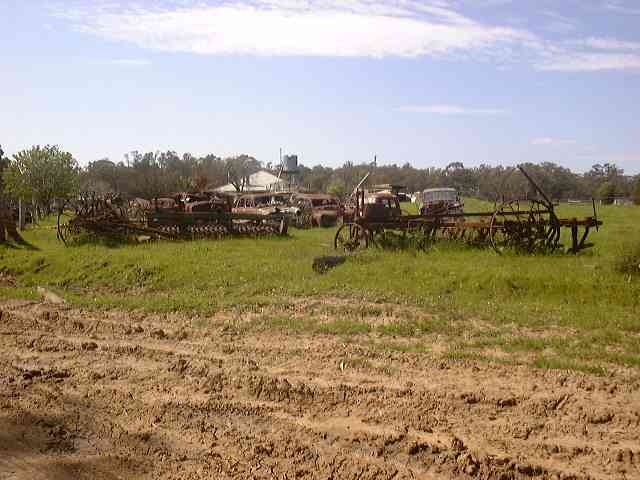 Next on the agenda was to pick up a couple of bicycles from one of Talha's friends and cycle them back. We had a wonderful ride along the Broken River and on down the Murray, until the saddle broke, and then the front tyre contracted a puncture. We got back just in time to go out kayaking on the Murray. We only went 1.25 km up river and back but I had a great time.
Monday 27th September 2004
Just on the edge of town is an Aboriginal keeping place where Talha has made a few friends so we have a look at the collection of artifacts and are then treated to a rendition on the didgeridoo.
For lunch we go down to the fishing spot by the river and start a fire. Nasreen manages to cook tandoori chicken on the smoldering coals. It seems quite unnatural but we cannot hear any traffic noise, just the sound of the river and various birds homing in on the smell of a free lunch.
Tuesday 28th September 2004
After our great weekend in the country we say our fond farewells to the Ali family and board the bus for Melbourne.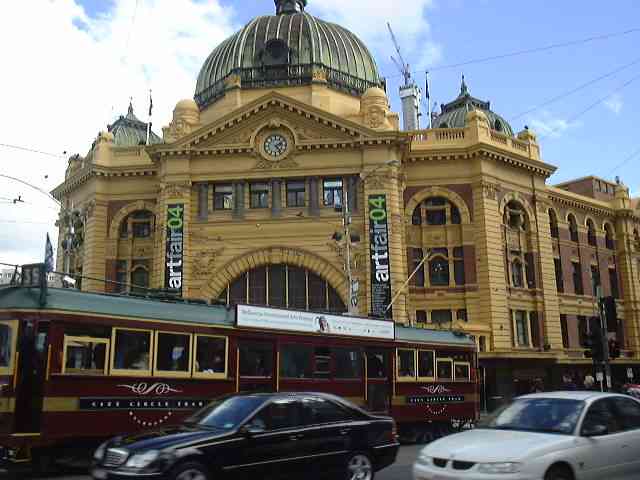 Chris has planned a trip for us on the Melbourne Restaurant tramcar which turned out to be a fantastic evening. They have taken some of the old tramcars and dolled them up rather allot in an old fashioned style that made us remember the restaurant cars in the Orient Express. Darren and Chris' sister Tracey came along and we all cheerily drank champagne with our starters, red wine with our beef main and liqueurs after our deserts. We all had such a good time we hardly noticed the rainy streets of Melbourne passing by the windows.
Wednesday 29th September 2004
Unfortunately I managed to contract a case of the flu and so we stayed home this day, taking advantage of Chris' hospitality, watching movies and flooding the apartment below. Well, the damage had been done the day before when I had taken a bath in the oversized sink that is an excuse for a bath. Apparently no one had done this before so had not noticed the hole in the plumbing. So it can't have been my fault really, honest.
Thursday 30th September 2004
Because of my flu we had delayed our trip to see Dave and Pauline Mcleod but we did not want to miss seeing them so we packed our bags and took the train to Frankston then the bus to Mornington. Dave and Pauline are so friendly and welcoming that it felt like coming home even though it was 8 years since we had last seen them and they had moved from Mooroolbark. They immediately fed us and took us down to Mornington pier and beach for a walk.
Friday 1st October 2004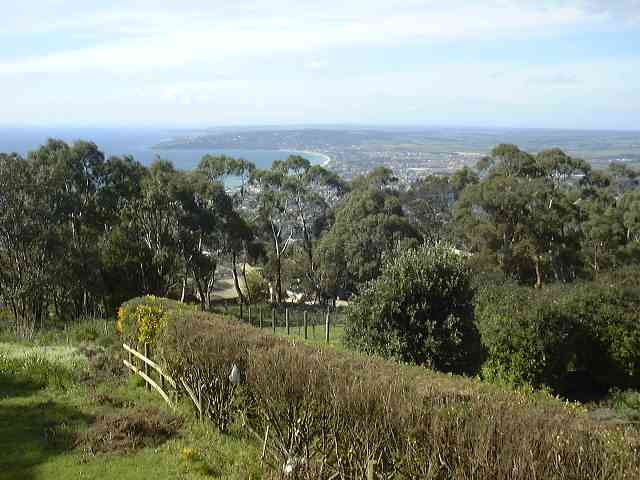 Not far along the coast is a hill with a seat called Arthurs Seat with a great view out over the bay. You can even see Melbourne's sky scrapers like a porcupine on the horizon.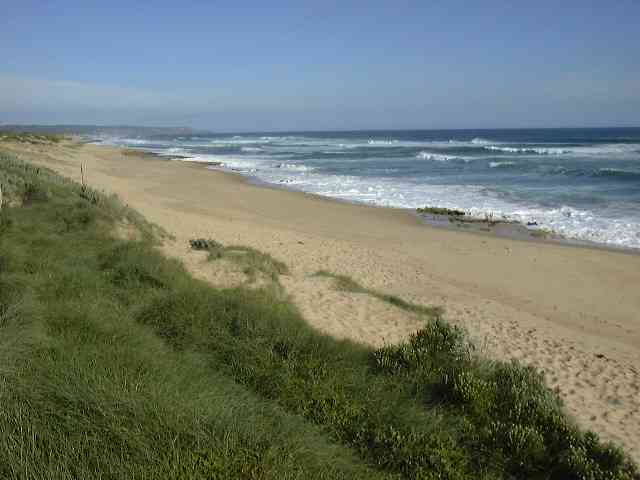 This being the beach district we had to take a walk on one. The rolling waves made a beautiful sight with the spray jetting up from the tips.
But we could not leave without a traditional meal of flake and chips which we shared with Dave and Pauline at a little restaurant called Fishys Cafe.
Saturday 2nd October 2004
After an all too brief visit we hop on a midday train back to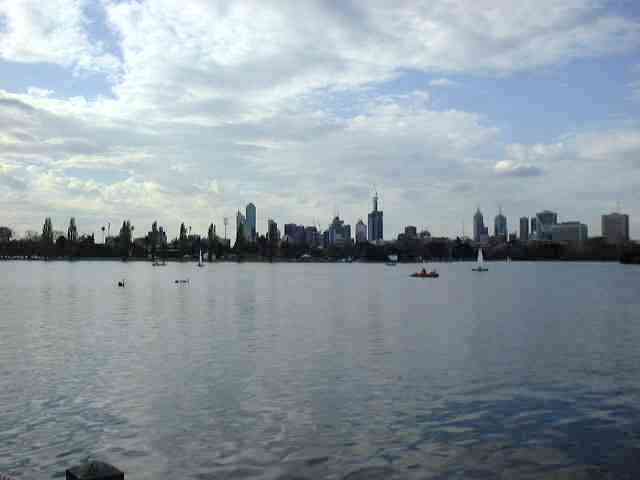 Melbourne where we meet Chris Heidi and Darren for our walk to St. Kilda. We very soon became distracted by the promise of lunch at South Melbourne Market but eventually managed to drag ourselves away for a stroll down the old residential streets towards St. Kilda. The houses on Cecil street are some of the nicest we have seen with porches, balconies, fancy ironwork and coloured brickwork patterns. The road is wide but quiet creating a very pleasing atmosphere.
We stroll round part of the Albert Park Lake, feed the black swans and take in the views before heading off past the Formula 1 racetrack and pit lane to the tram for a ride home.
We had been invited along that evening as guests of Chris and Darren to the 40th birthday party of their old college buddy Warren. It was a grand affair with a constant stream of orderves followed by a spit roasted cows bottom and topped with chocolate and cream gateaux.
Sunday 3rd October 2004
After a lazy start befitting of a Sunday we headed out round Port Phillip to Queenscliffe where we stopped for afternoon tea, scones, jam and cream at the Ozone Hotel.

After a short walk along the beach we stopped in the old waiting room of the foot ferry to lunch on Potato Scallops and chips foraged for us by Darren.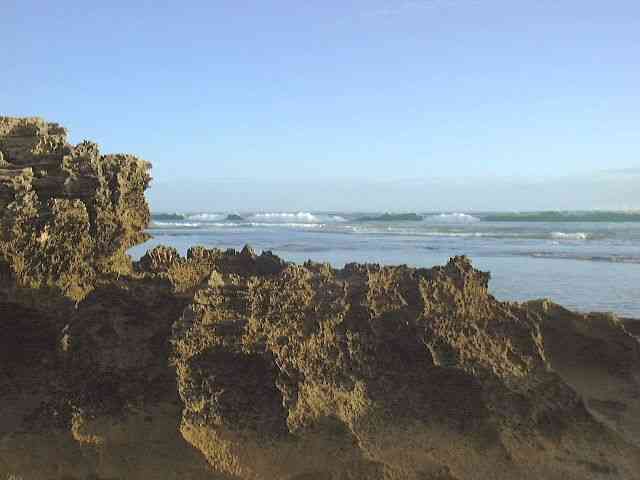 Just around the corner is Point Lonsdale featuring a light house, Buckleys Cave and a long stretch of sandy beach preceded by an outcrop of artistically weathered sandstone rocks. We spent a happy hour or so here looking in the cave and rock pools, scaling the rocks and pretending it was warm.
As always it was a long drive home so we ate out at a fine Italian restaurant before going back to the apartment for coffee and to watch a silly movie.
This concluded our last real day in Melbourne and I must say we enjoyed ourselves muchly. Our hosts were all gracious and welcoming and made our stay fun-filled and action-packed. We are sad to leave but the sun, sand and sea of the eastern coast beckons so we must depart.
Monday 4th October 2004
This was actually our last day in Melbourne but it was dedicated to domestic tasks such as washing, checking emails, packing bags and tidying up Chris' apartment so that we might be asked back again.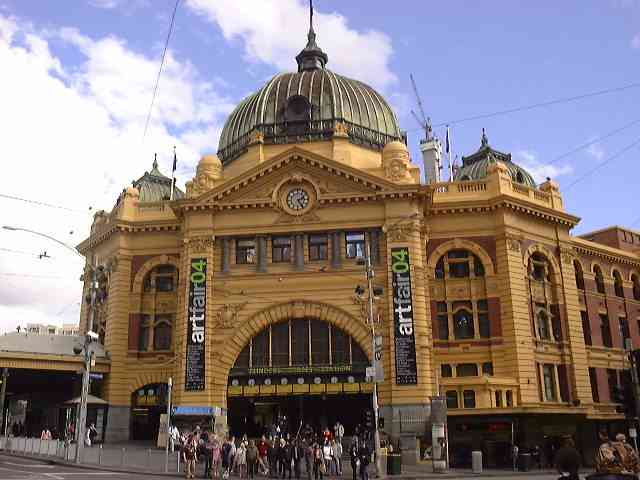 We did manage to walk up the Yarra to Flinders Station and eat lunch on the street at an Italian style cafe. On the way back we dropped Rochelle's books off with her friend at the Post Office and picked up some dinner from the supermarket. It shocked us to realise that this comprised the furthest walk into the city that we had managed during our whole visit. Still, there is always next time.
After our tearful goodbyes to Chris and Daren we just about managed to stuff our dinner down and run up Batman Hill to Spencer Street station to catch our 7:55 p.m. overnight train to Sydney.
The journey went surprisingly well. After realizing that we could have saved ourselves indigestion by eating on the train from their selection of hot meals (the old BR buffet reputation had put us off for life), the lights were put out at 10:30 p.m.. Trying to read in the subdued lighting soon made us sleepy and we reclined our seats for a nap. The nap quickly turned into full scale sleep which would have surprised me had I been awake to notice as I usually sleep very badly in a chair unless I am not supposed to.
<<New Zealand<< | Index | >>Australian East coast>>